CTX Land Clearing and Forestry Mulching
Land Clearing Services Central Texas
Land clearing, especially in Austin, TX is a necessary process for any overgrown property. Texas is home to over 25 thousand types of insects that just love to live in unwanted vegetation such as trees, brush, undergrowth, and anywhere else they can hide and multiply. In addition to insects – fungus, invasive scrub vegetation, and other wildlife that can wreak havoc on your land are everywhere.
Land and underbrush clearing is a great pre-emptive measure to cut down on these unwanted visitors as well as debris which will in turn ensure your land's value and usability remains at their highest levels possible. CTX Land Clearing and Forestry Mulching not only offers these services but includes forestry mulching with the use of industrial-grade tree mulchers to return nutrient-rich mulch to your land.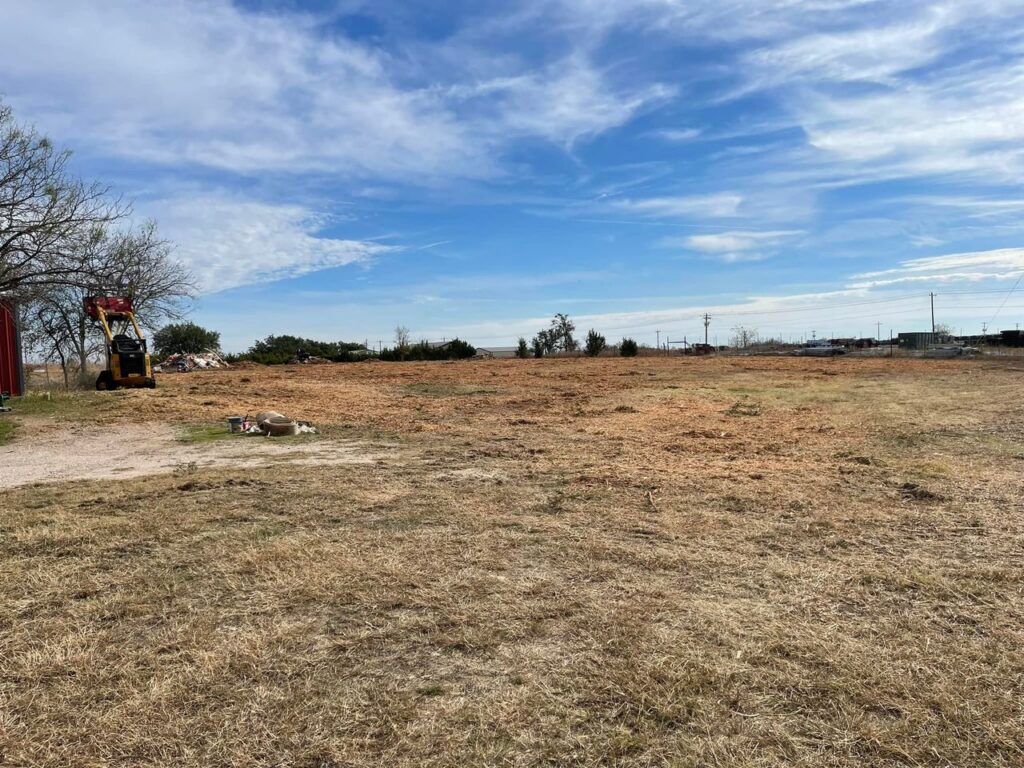 What to Know About Land Clearing in Austin Texas
While we live in an age of DIY, renting ranch land clearing equipment and going at it yourself in Central Texas will be more of a headache than you may expect. While there are plenty of things to consider, the most important ones are: 
Permits related to wildlife conservancy and right of way
The type of machinery that would work best for the project such as a brush mulcher
Grading and leveling needs when it comes to ranch land clearing
Permits in particular can be quite tricky when it comes to land clearing. To preserve the precious habitats of animals such as the Black-Capped Vireo or Golden Cheek Warbler, a permit and the knowledge of how to avoid permanently damaging their habitats is a must. Companies like ours are specially trained in this and other aspects of land clearing that may evade even the savviest consumer. It's always best to go with a knowledgeable Austin land clearing company whether you are cleaning up residential or commercial land.
Another aspect of obtaining permits in Texas is when it comes to the right of way. Emergency services, utility providers, railroads, etc. must have land cleared around their prospective routes and access points to ensure your land is up to code. Land clearing contractors, like ourselves, are trained to identify these points of interest and advise on the correct way to remain in compliance.  
Machinery also plays an important role in the land clearing process. While the thoughts of clearing land may have you think of bulldozers, the field has evolved over the years to no longer require those for every job. There are a number of specialty tools and machines available that are more efficient in their methods making the land clearing process that much easier. If you live in Austin Texas, for example, the most common tree species are usually Ashe Juniper, Cedar, and Oak. All of these species have different requirements for removal as well as root systems that must be considered.
Finally, clearing land requires knowing what the future use will be. Clearing land for an animal sanctuary may require the return of nutrients to the ground while clearing land for a future ranch or farmland may instead require spraying the ground with herbicides to promote grass growth and stop mosquitoes as well as other pests from returning. This final consideration is extremely important to ensure your land doesn't degrade as fast as it has been cleared.
Lot Clearing for Development
Lot clearing is the process of clearing land with the intent of developing it. This development can be large-scale (such as for a new housing community) or smaller scale (such as for a single-family home). Clearing for new construction is a multi-tiered process but luckily, we also offer services focused on preparing the land for building.
Once the site clearing or ground clearing is complete, the process for construction site preparation or grading and leveling kicks in. During construction site preparation, land clearing companies will assist with surveying the land, providing soil analysis, reviewing intended designs, and everything in between. This is a very important piece of the process whether you are looking to build an office building or create a new home. Ensuring the land is ready for excavation and laying a foundation will prevent costly issues down the line.
Grading and leveling, on the other hand, are a must when it comes to clearing land with the below purposes in mind:
Making Paths for Roads
Clearing land for Railroads
Minimizing Runoff
Improving Irrigation of Farmland
Leveling, in particular, can make or break future farmland as without the correct leveling techniques being applied, the land won't be optimized for irrigation resulting in poorer water distribution among crops in the future. CTX and other companies in the field know exactly how to apply these time-tested techniques to ensure that your land is not only reshaped for your future projects but will remain viable for years to come.
This process is more large-scale and involves the mulching of unwanted trees and brush into nutrient-rich mulch. This mulch can be hauled away from your property or reapplied to the cleared land to prepare it for future projects.
Unlike forestry mulching, tree mulching can be done on a smaller scale and, as the name suggests, focuses on trees. Mulchers vary by type with the higher end, industrial types used by land clearing experts like CTX.
Sendero herbicide has become the gold standard in terms of mosquito control. Continued applications have proven to have minimal if any effect on the grass while eliminating mosquitoes and their negative effects on wildlife and livestock. 
Tree removal is part of the land clearing process but can also involve stump removal. Our team not only offers tree clearing services but also land reshaping to balance the land or even create an incline.     
Brush removal typically involves a specialist coming out to the property and using a specialty tool to clear pests and undergrowth with minimal effect on the rest of the land. This can also be done on fence lines to reduce debris on the property line.